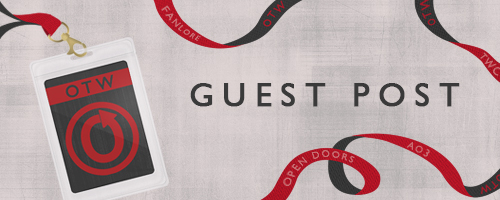 From time to time, the OTW will be hosting guest posts on our OTW News accounts. These guests will be providing an outside perspective on the OTW or aspects of fandom where our projects may have a presence. The posts express each author's personal views and do not necessarily reflect the views of the OTW or constitute OTW policy. We welcome suggestions from fans for future guest posts, which can be left as a comment here or by contacting us directly.
Today's post is an interview with Julia Prescott, co-host of the Simpsons podcast, Everything's Coming Up Podcast.

How did you first get involved in fandom? What was your first fandom?
My first fandom was probably ska music — which I know doesn't technically count as a "fandom" but I was really involved with the scene happening in Orange County in the early 2000's, I would go on message boards and talk to people all day. This was pre-Facebook. Since then, I've become involved in fandom ranging from Harry Potter to Simpsons to younameit.
What is your primary involvement in fandom?
Currently my primary involvement is the Simpsons fandom world, with my podcast and the Simpsons trivia show I co-host at Meltdown Comics in Hollywood. When it comes to being involved in a fandom world, I learned long ago that it does absolutely nothing for you to try and inch your way past other fans to become "the ultimate fan." We often get called out a lot by Simpsons fans who pay a lot of attention to minutiae and small details in Simpsons episodes. My co-host Allie and I are always the first people to admit that we're more concerned with the broad strokes of the Simpsons, the mechanics of the jokes than getting every word perfect — what The Simpsons did overall for generations. We know that even the writers and producers themselves don't remember minutiae, so how important can it possibly be to loving the series and being a fan as a whole?
How did you get started doing that?
My friend Allie and I were introduced through our love of The Simpsons from a mutual friend. Shortly after, we started talking about wanting a place where we could have deeper discussions on episode writing, and the heart of the show — something that we hadn't seen pop up in a lot of places up until that point. She was a frequent attendee of Stonecutters, and though we loved going there as an outlet to get our Simpsons nerd-dom out, there was still some longing on our part to continue the conversation. A podcast was a natural choice, and with our rolodexes combined we've had a pretty good run of special guests.
What do you love most about running the podcast, and what occurred after you began it that you didn't expect?
I love bonding with our guests through the conversation we have on the podcast, and learning more things about them I never would have guessed previously. Having actual Simpsons people like Josh Weinstein, Bill Oakley, Dana Gould, Mike Scully, and Tim Long on to discuss their favorite episodes has been just incredible — a dream come true that I thought would never happen in a million years. Something that I never saw coming with it was truly the fan reaction. This is the first podcast I've run where I've felt like people were actually listening, which sounds sad, but realistic given the current oversaturated podcast climate. When fan emails started pouring in, and we would get fan art, and write-ups in The AV Club – man, that's when we knew we stumbled upon something really great. Our plans for the future are limitless, and soon we hope to have merchandise and videos and more and more. We're having a blast doing it and can't wait to see where it goes.
How did you get into The Simpsons? How long have you been a fan?
I got into the Simpsons, like a lot of other children of the nineties through their parents. Every Sunday night, we tuned in as part of tradition. My Dad would create VHS "mix tapes" of early S1 and S2 episodes. Man, did I wear those tapes OUT. So I've been a fan more or less since the early '90s. Since everyone in my generation seemed to be on the same page with, "The Simpsons is one of the best TV Shows of all time," it wasn't until in the last couple of years that I had a real "Simpsons Renaissance" and dove deeper into the nerddom. I realized one day that the reason why I've been aiming down the path of a comedy writing career was because of its influence, and so I got a tattoo of the Gummy Venus de Milo on my right shoulder with a banner that says, "Sweet, Sweet Candy" old school tattoo-style. Being a Simpsons fan when you're trying to write comedy is both great and terrifying. Great, because there's heaps of lessons to mine from it — smart jokes juxtaposed next to silly, "dumb jokes,"; visual humor, physical humor, etc etc. Terrible because how do you POSSIBLY live up to that? I try not to think about that question that often.
Before you began hosting a podcast, what was your involvement in Simpsons fandom?
For years it was just known about me, that if you threw out a Simpsons quote, I would probably complete it for you immediately. Then I discovered Stonecutters LA, the Simpsons trivia show at Meltdown Comics. I became buddies with Kyle Clark, Adam Murray, John Ungaro, Ben Dunn and Laura Crawford who put it together every month and at first they asked if I wanted to submit trivia questions, then I kind of just got welcomed into the fold and became the official "Score Master" — a role I take with equal parts silly and snark.
What sets your podcast apart from other Simpsons Podcasts?
To be honest, I haven't given a ton of other Simpsons podcasts a good listen — probably because I'm a little Simpsons'd out by the time we wrap our episodes. From my understanding, there's another podcast that goes through each episode chronologically, like a lot of other TV-centric podcasts that have popped up like, "Gilmore Guys" and "Best of Friends." Then there's another podcast called, "Worst Episode Ever" that covers what the hosts and guests believe are terrible episodes of The Simpsons. We chose our format because it gives us more options, and lets the guest lead with their passion — which I've found is a winning formula. I had another podcast that covered cult movies and learned a big lesson when I had asked a guest to speak about a film I thought they were a huge fan of — cut to a kind of stilted, awkward conversation later. I knew that the guest has to be the one who's bursting with excitement to talk about an episode, and inevitably that leads to a charged, positive conversation – which is just the kind of podcast that I personally enjoy.
Is there something you'd like to do with the podcast you haven't been able to do yet?
We've been kicking around the idea of doing live episodes, and we're slated to do our first at a great venue called Hypno Comics in Ventura, CA in the new year. My good buddy Joe Starr orchestrated that, and he'll definitely be a guest on our show very, very soon. Allie and I also wanna go on tour and figure out a traveling kind of podcast with it. We wanna shoot videos and go on "Podcast Field Trips" — we have a lot of stuff kicking around.