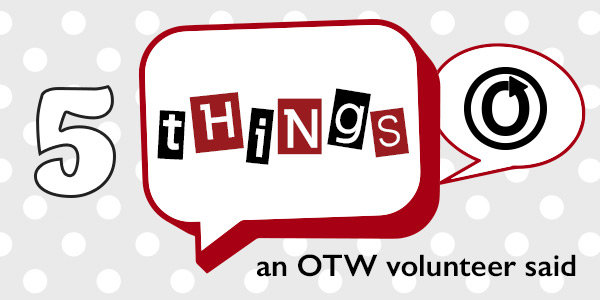 Every month or so the OTW will be doing a Q&A with one of its volunteers about their experiences in the organization. The posts express each volunteer's personal views and do not necessarily reflect the views of the OTW or constitute OTW policy. Today's post is with V Snow, who volunteers on our Support Committee.
How does what you do as a volunteer fit into what the OTW does?
I volunteer for AO3 Support. We are the team users can contact if they are having technical issues with the Archive. We deal with a very wide range of issues, but a lot of it is helping users when they are having a hard time activating accounts, changing passwords, etc. Our work helps users get back to using the site when they have a problem. This fits in with the OTW's goals because, well, without Support a lot of users wouldn't be able to access the Archive at all.
What is a typical week like for you as a volunteer?
We have no set schedule or required workload in Support so it varies. Mostly it's keeping an eye on the reports coming in and grabbing ones I can answer. When I have some spare minutes I will write responses and approve others' responses so they can be sent.
One of the things I appreciate about Support is that there is a lot of flexibility in the workload. If I'm feeling especially motivated I can grab a more complicated ticket, which may require internal consultation and multiple back and forths with the user. But if I am not up to a lot of work, I can pick out some easier tickets and/or beta other responses.
What made you decide to volunteer?
I was trying and failing to find work at the time and people kept telling me to volunteer to add to my resume. Nowhere in person worked for my situation or wanted my help. I'd been a fan and user of the Archive for years and the work Support does interested me. So when Support applications opened up, I figured why not!
Of course, I ended up getting a job before I even settled in with Support or had a chance to put this on my resume. But it wasn't even a question of continuing to volunteer because I realised how much I enjoyed it.
What has been your biggest challenge doing work for the OTW?
Probably the technical aspects. Because Support deals with bug reports we often work with the Accessibility, Design & Technology Committee (AD&T) to discuss reports. My coding knowledge is minimal and a lot of the technical details go over my head, but just through osmosis I have learned a whole bunch about how the site works from a technical perspective.
The other main challenge was the sheer amount of knowledge. Knowledge of how the site works (and the issues people encounter) was one thing, but also learning how the organization works and who to ask for what was also a challenge. The OTW is a huge and complicated place with a long history. It took a bit to figure it all out and start to feel like I belong.
With all these challenges I am glad I took the time to get through them, as the work is all the more rewarding now.
What fannish things do you like to do?
I would say my main fannish activity is beta reading/editing for various fandoms. I do also do some writing myself, but betaing is what I love. I participate in and help run a variety of Big Bangs. This brings me a lot of joy, to get to plan and organize things and watch the fandom come together to create content. Of course, I also read fic and spend inordinate amounts of time discussing headcanons with my friends.
---
Now that our volunteer's said five things about what they do, it's your turn to ask one more thing! Feel free to ask about their work in the comments. Or if you'd like, you can check out earlier Five Things posts.