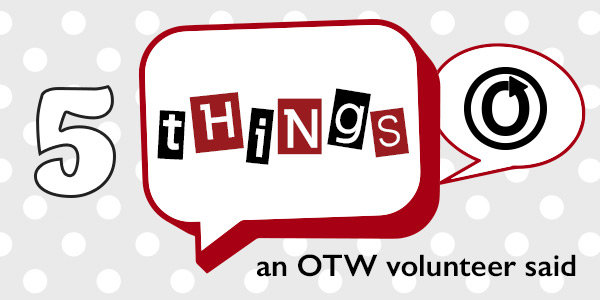 Every month or so the OTW will be doing a Q&A with one of its volunteers about their experiences in the organization. The posts express each volunteer's personal views and do not necessarily reflect the views of the OTW or constitute OTW policy. Today's post is with one of our Fanhackers staffers on our Communications Committee.
How does what you do as a volunteer fit into what the OTW does?
Our organisation's mission is to preserve and provide access to fanwork and fan culture, and part of that work is describing this culture. By now, fandom studies as a discipline is well established with its own conference and journals, such as our very own Transformative Works and Cultures. It is not a question anymore whether this culture is distinct or valuable enough to have academic discourse about it.
This recognition from academic circles came early because fans themselves started to describe our own communities, modes of creation, genres, and how we accumulate social and cultural capital. No wonder that after honing our skills on so-called metas, analysing the cultural products we are fannish about, that discourse about this culture is also a typical work made by fans. Yet, despite fannish academics and essay-writing fans, there is work to be done in connecting these discourses. Of course, that happens many times already, but my project — Fanhackers — work is to provide tools that make these connections happen more easily, and more frequently.
What is a typical week like for you as a volunteer?
My work consists of long hours of reading and then the arduous work of talking about what I read with other people. It's basically like being fannish and organising fannish events, but with academic texts. I have the honour of working together with talented and motivated people and I only have to encourage their writing and ideas.
It is my dream to work together with guest posters, to have people send us questions and suggestions for the kind of posts they want to see, the kind of texts they want us to cover, the kind of tools we should provide. We also have a bibliography of past and present fan studies work that I hope will move more into the spotlight in the future.
What made you decide to volunteer?
I know that I might not be able to stay within academia, but I wanted fandom studies to still be part of my life. This way, I made it other people's jobs to kick my butt if I slack off.
What has been your biggest challenge doing work for the OTW?
With my background, I mostly work with people who have a deeper understanding of fandom studies and more academic experience, and with people who have a deeper understanding of fandom discourses. I have too little understanding for both of their tastes, but at least I can rely on my lack of understanding to see where there might be a gap that needs to be bridged.
What fannish things do you like to do?
I am a fanfiction writer, so writing circles are where I am active. I participate in more exchanges, auctions and fests than what my beta would like to allow me. I also co-mod a Dreamwidth community. I am also just getting into ficbinding, and it is yet to be seen what my work in that area will be like.
---
Now that our volunteer's said five things about what they do, it's your turn to ask one more thing! Feel free to ask about their work in the comments. Or if you'd like, you can check out earlier Five Things posts.