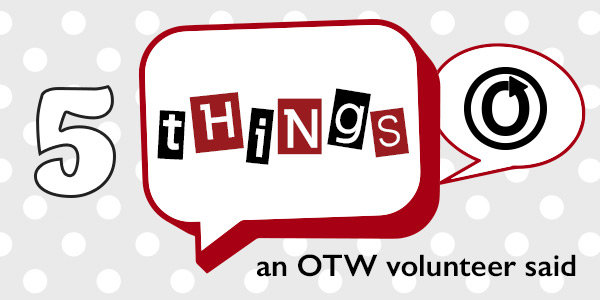 Every month or so the OTW will be doing a Q&A with one of its volunteers about their experiences in the organization. The posts express each volunteer's personal views and do not necessarily reflect the views of the OTW or constitute OTW policy. Today's post is with Sammie Louise, who volunteers as an AO3 Documentation chair and Support volunteer.
How does what you do as a volunteer fit into what the OTW does?
My current volunteer roles are chair of the AO3 Documentation Committee and AO3 Support Committee volunteer. So what I do primarily is help people understand how to use the AO3 site and its features directly through my support work and indirectly through writing and editing our FAQs and help documentation.
What is a typical week like for you as a volunteer?
As a committee chair, a lot of what I do on a weekly basis is background admin type work. I meet with the other chairs every week where we discuss any short or long term projects and what we need to be doing to move those forward. I also review the documents that our volunteer editors have been working on and sometimes meet with the editors directly to address any questions. Occasionally, I have the time to work on a document myself. 😉
In AO3 Support, I unfortunately rarely have the time to take user enquiries directly, but I do spend some time helping to troubleshoot an issue or check responses other Support staff have drafted. It's important we do these checks to make sure the answers we're sending are accurate, and fully answer the person's questions.
What made you decide to volunteer?
I've been a volunteer with the OTW since April 2014. I honestly can't remember what prompted me to volunteer. I think I was invested in a particular fandom at the time, and that led me to AO3. I had spare time on my hands and wanted to help out. I joined AO3 Documentation then, and have since also worked with OTW Translation, AO3 Policy and Abuse, and now AO3 Support.
What has been your biggest challenge doing work for the OTW?
Hmmmmm. That's a difficult question. I guess, over such a long period of time, maintaining my motivation can sometimes be a challenge. There are a number of things that remind me why I'm here though—sometimes we'll get a message through Support that lets us know our FAQs and Tutorials have been helpful to someone, and that's motivating. (Seriously, let us know what's helped you out, you can contact us via the Technical Support and Feedback form in the footer.) Also, I'm working with a phenomenal group of people who I genuinely like, so that also helps keep me on track.
What fannish things do you like to do?
I read on AO3 a LOT. Like, an unreasonable amount of fan fiction reading is going on in my life LOL. I dabbled in writing many years ago, and that was fun and felt like a huge accomplishment. But I seem to have run out of stories to tell, so I mostly enjoy the stories others have shared. There's so much writing talent in fandom, it's inspiring.
---
Now that our volunteer's said five things about what they do, it's your turn to ask one more thing! Feel free to ask about their work in the comments. Or if you'd like, you can check out earlier Five Things posts.