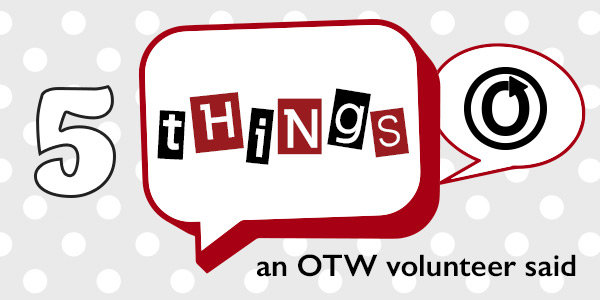 Every month or so the OTW will be doing a Q&A with one of its volunteers about their experiences in the organization. The posts express each volunteer's personal views and do not necessarily reflect the views of the OTW or constitute OTW policy. Today's post is with Julie Bozza, who volunteers as an Open Doors staffer.
How does what you do as a volunteer fit into what the OTW does?
I work with the Open Doors Committee "to protect and preserve at-risk fanworks of all kinds", which fits neatly into the OTW's interest in "providing access to and preserving the history of fanworks and fan culture in its myriad forms".
Technology changes, corporations are at cross-purposes with fandom, apps come and go — but the OTW is here for the long haul, and Open Doors can help if your fanwork archives need a safe new home.
What is a typical week like for you as a volunteer?
We have an informal online meeting once a week to work together and catch up on shared projects. Our committee crosses several time zones, which can make things tricky! I'm in Australia, so the meeting tends to fall on my Sunday mornings. Coffee is an essential part of the process!
There is a lot to learn, and every incoming archive is different, so we use the meeting to ask questions and share our knowledge and experience. We often learn from each other by walking through a new task in tandem with a more experienced colleague.
I tend to devote the rest of my Sunday to Open Doors work, and then if anything urgent pops in during the week, I give it what time I can.
Typical tasks include working with archive owners (via email), answering queries from creators whose works are being imported, organising data about an archive's fanworks and tags (via spreadsheets) — and occasionally performing actual imports!
Some of our imports are semi-automated, with the hard work done by our technical team to adapt the archive's database into something we can upload directly to the AO3. But other archives need to be manually imported, which involves a lot of copying-and-pasting. The archivists and their friends are usually responsible for that task, but our team pitches in and helps when we can, with any part of these processes.
My favourite day job involved working as a technical writer, so it's great to now use those skills for the benefit of Open Doors, in helping to document our processes. I generally do that outside of meeting times, so I can concentrate!
What made you decide to volunteer?
I love the AO3, and have been posting my fanworks to it since 2010. I decided to post some of my earlier works, too, for the sake of preservation. It was an interesting process, to see what had changed and what had stayed the same in my writing. It was also great to revisit some old fannish loves! I finished that process in early 2020 — and happened to notice that Open Doors was recruiting.
I'd been a bit shy of applying to volunteer for the OTW before, but this seemed like perfect timing. Having just "protected and preserved" my own fanworks, and finding it a useful task, I figured why not help do that on a larger scale for fandom…?
What has been your biggest challenge doing work for the OTW?
Probably just restraining myself from doing too much! A personal trait which I'm not very good at managing, especially when working remotely.
But I haven't found anything in the OTW challenging in a bad way. The Open Doors team are a delight to work with, and colleagues on other committees have been friendly and helpful. (I think it makes a difference that we all actually want to be here.) Our processes are well documented, and we make good use of various apps. I've had to learn new stuff, but that's a good thing! A challenge, but not too challenging, if you see what I mean. The kind of challenge I appreciate.
What fannish things do you like to do?
Mostly I'm a writer, and have the fanfic to prove it! Back in pre-Internet days I also enjoyed editing and publishing fanzines, and I do miss that aspect of fandom. I enjoy updating Fanlore, if I find any empty spots I can usefully fill. And I have a couple of fannish websites, one about my favourite actor, and another about filming locations for a certain TV show.
Otherwise, I read books, and watch TV and film. I don't think I've ever done that passively. I've always approached these things in fannish ways — actively engaging with content in that enthusiastic way, so that it serves as a source of inspiration and imagination. It's a way of life! It's definitely part of my identity.
Which makes me happy to be a small part of the OTW. No doubt we are a hugely diverse bunch — but we are, if I may be so bold, my kind of people.
---
Now that our volunteer's said five things about what they do, it's your turn to ask one more thing! Feel free to ask about their work in the comments. Or if you'd like, you can check out earlier Five Things posts.