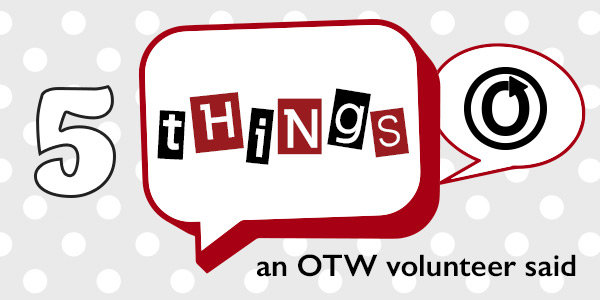 Every month or so the OTW will be doing a Q&A with one of its volunteers about their experiences in the organization. The posts express each volunteer's personal views and do not necessarily reflect the views of the OTW or constitute OTW policy. Today's post is with Frost the Fox, who volunteers on our Systems Committee.
How does what you do as a volunteer fit into what the OTW does?
As a volunteer for the Systems committee, we're responsible for all of the OTW's IT infrastructure, including our physical equipment such as our firewalls/routers, switches, and servers, as well as the many different software components that make up the Archive of Our Own, Fanlore, and our internal services that our committees use to conduct their business. Just like business IT departments, we provide and maintain the technical infrastructure to allow other committees to achieve their goals, and thus, the OTW's goals.
What is a typical week like for you as a volunteer?
A typical week for Systems starts with our weekly meeting where we share our progress on any committee work we're doing, bring up any important tasks that need to be done, and just generally catch up. Throughout the week we usually receive at least a couple of tickets for updates to some of our internal tools, which are usually pretty quick to take care of. Beyond this, things are different every week depending on what arises!
Sometimes we'll have projects, requests from committees, or software updates that require changes to our configuration. In this case, we'll use our configuration management system to implement the changes, and have them reviewed by at least 1 other person in the committee for sanity before deploying them. And of course, all infrastructure has its problems here and there. When there's an outage on the AO3 or any of our other projects/tools, we respond and investigate the cause of the problem. We'll identify the problem and liaise with other committees as needed to work towards a solution, and once we have one, implement it and monitor to ensure that things recover as expected.
What made you decide to volunteer?
I have a number of years of experience in the IT field ranging from generic help desk type work, to programming, to system administration. Having already been a part of the organization, I knew that there was a lot of infrastructure to maintain, and that there was not a huge amount of people to do so. I have a lot of fun working with technology, and volunteering with the OTW elsewhere had been very rewarding for me, so when I saw that Systems was recruiting, I knew I would be doing a disservice to myself if I didn't apply.
What has been your biggest challenge doing work for the OTW?
My work in my career in IT has been mostly focused towards general business operations which is focused a lot on internal services, as opposed to the OTW, which has more public services. While the basics of server operating systems, virtualization and the like transferred over, there were a lot of other technologies I wasn't so familiar with that I had to learn, particularly those surrounding the Archive. Getting used to any organization and how their IT systems connect also takes some time. I wasn't familiar with the configuration management software in use, so that in and of itself was a major learning curve for me, but once I became familiar with it, it made understanding what specific machines do so much easier.
There's also the nervousness that many people have felt when deploying something to their production environment, except here it's on a much larger scale than I'd ever dealt with before!
What fannish things do you like to do?
Recently I've gotten back into a bit of a writing mood, and I've been doing some work on an original story I played around with over a year ago. While that's not something I'm likely to put on the Archive, it's gotten the creative juices flowing, and I have some potentially fun ideas for some of my fandoms that I'll be exploring! I mostly read fic so it'll definitely be a new experience for me to put something out there for others to enjoy.
Speaking of reading, I've been doing a lot of that whenever my schedule permits. Some of that has been in my original fandoms such as Black Lagoon, Final Fantasy, Red Rising & Zootopia, and some in a couple of new fandoms like Hitman. I'm also working on finishing a couple of series and playing some different games that might also lead to new fandoms for me later on. In general I'm always bouncing around between different fandoms looking for something fun to read!
---
Now that our volunteer's said five things about what they do, it's your turn to ask one more thing! Feel free to ask about their work in the comments. Or if you'd like, you can check out earlier Five Things posts.