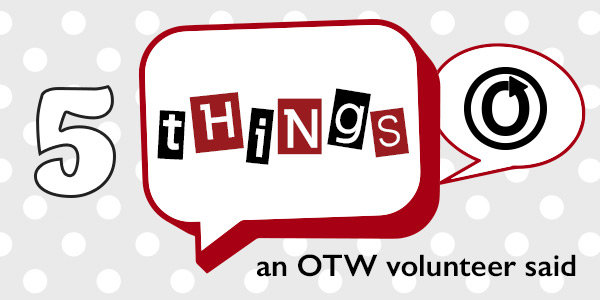 Every month or so the OTW will be doing a Q&A with one of its volunteers about their experiences in the organization. The posts express each volunteer's personal views and do not necessarily reflect the views of the OTW or constitute OTW policy. Today's post is with Fiona M, who volunteers as an AO3 Documentation staffer.
How does what you do as a volunteer fit into what the OTW does?
I'm an AO3 Documentation Committee staff, so I'm part of the team that writes the AO3 FAQs and any other documentation you might find on the Archive, like tutorials.
What is a typical week like for you as a volunteer?
My weeks vary a lot depending on what kind of tasks I've taken on, and what stage the document is at. Some weeks I put in a lot of hours, and some weeks I don't put in a ton of time.
Usually I start at the beginning of the week by filling out our check-in and catching up on what the other staff are working on. I also check to see if any documents have been moved to the open ("free-for-all") beta read stage, so I know if I need to make time for a beta read during the week.
Then, I work on the tasks I have assigned to me. That might be drafting a new document, or beta-reading someone else's document. I might be testing out new archive features and taking notes so I can write about them, discussing grammar and phrasing issues with other staff, checking HTML code, or any of the other various steps needed to take an FAQ document from the beginning of drafting to the end point of uploading new/updated documents to AO3.
What made you decide to volunteer?
I really wanted to be able to give back to the organization that has given me so much. I am super passionate about the importance of fanfic, both in my personal life, and as an art form in general. Transformative works have been quite literally transformative for me. I've read legitimately life-changing fics, as well as made some wonderful friends through reading and writing fic.
I had been keeping my eye on volunteer postings for a while, and the kind of work that Docs does aligned well with my skills. I've now been a volunteer for almost two years, and I love getting to have a hand in helping others understand how to use the site.
What has been your biggest challenge doing work for the OTW?
I've had to learn a lot about Archive features that I didn't know how to use! When you're suddenly testing all the instructions on how to run a Prompt Meme, for example, first you have to quickly learn what a Prompt Meme is! But that's been a wonderful challenge that I enjoy very much. Being an AO3 Docs staffer has made me so much more knowledgeable about all the features the site offers and everything that users can do.
What fannish things do you like to do?
I write a lot of fanfic, mostly for sitcom fandoms. I read fanfic almost every day as well, whether I'm rereading old favourites, or looking for new fics. I also run a tiny Tumblr blog where I rec fics, write meta and just in general discuss my favourite characters.
---
Now that our volunteer's said five things about what they do, it's your turn to ask one more thing! Feel free to ask about their work in comments. Or if you'd like, you can check out earlier Five Things posts.