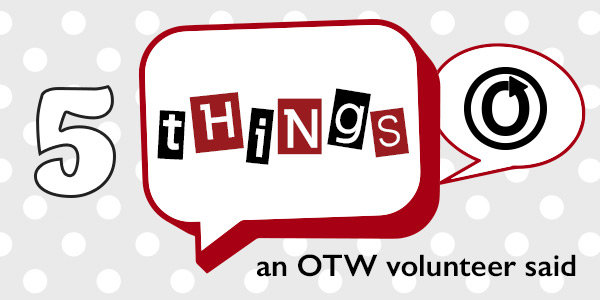 Every month or so the OTW will be doing a Q&A with one of its volunteers about their experiences in the organization. The posts express each volunteer's personal views and do not necessarily reflect the views of the OTW or constitute OTW policy. Today's post is with Effie, who volunteers as a TWC Outreach and Communications editor.
How does what you do as a volunteer fit into what the OTW does?
My role is fairly new! Originally, I applied to be an editor of Transformative Works and Cultures' Symposium section. However, during my interview with Kristina and Karen I ended up discussing ideas for outreach and communications at length. This eventually led to the creation of my role: Outreach and Communications Editor. My main focus is on the journal's social media presence, namely Tumblr and Twitter, though I also make sure that any calls for papers are posted around the Internet as well. I am hoping to scale up TWC's outreach so that an even wider breadth of scholars (and fans!) feel confident submitting to the journal. Additionally, as I continue on with the role, I will take over most of the outward facing communications including press releases. This takes the task off the editors' desks, which enables them to focus on what they do best, and allows for a more uniform tone across the journal's communications.
I've been with OTW for years, though! I began volunteering on Fanlore back in 2018 and am still a member of the Fanlore social media team, though I have taken more of a backseat in that role.
What is a typical week like for you as a volunteer?
My weeks are pretty atypical and dependent on what (if anything) is coming out of TWC – not to mention that, this being a new role, I'm still trying to find the right rhythm for our social media. Moving forward, I think the weeks surrounding an issue release will be busiest, as I intend to get a few social media posts out leading up to the release and then, of course, focus on the release on the day of but also for a few weeks afterward! I think the opportunity to have a stronger presence on social media is one that we shouldn't miss out on and I'm eager for the journal's presence to be felt! On quieter weeks, I intend to remind followers of our upcoming calls for paper, as well as highlight pieces from recently released issues.
What made you decide to volunteer?
I have quite a lot of editorial experience and it's something I love to engage in. I actually run my own young adult literary journal and have been on staff at AGNI literary journal for over half a decade. Social media is a big part of what I do in both of those roles, so I've become fairly confident in that area. At first, when I applied to be a Symposium editor, I did so because I enjoy editing but also because I think the Symposium section of TWC is wonderful. It offers authors and readers opportunities to start discussions on a variety of topics but, perhaps even more importantly, it's a space for fan meta. But in the conversation/interview for that role, I got really carried away with what appears to be a passion of mine: outreach and communications. When Kristina and Karen offered me this new role, I was really pleased. I'm a devout reader of TWC and have felt, for a while now, that the work it produces needs to be read by more people! So I'm really thrilled to be part of the process in getting this work into people's hands, so to speak!
What has been your biggest challenge doing work for the OTW?
The biggest challenges I've found, in both my Fanlore work and in this new role at TWC, are (1) understanding the scope of OTW and the systems it has in place and (2) project planning. For the first challenge, I think it's really easy to be a user of one, or many, of the OTW's resources and not realize the amount of work that goes into each aspect of this massive organization. The Fanlore team alone, between social media staffers, graphic designers, gardeners, etc is made up of at least a couple dozen volunteers. TWC is also made up of a large group of volunteers and these are only two of the many projects under the OTW umbrella. At first, it is a little overwhelming to grasp who all does what and how! I still found this to be the case when I moved into my new role, despite being on Fanlore for so many years!
The second challenge, which is perhaps a more personal one, is more focused on project and time management. Being a volunteer for such a large organization means that you are responsible for ensuring you pull your weight within the role, or else other aspects might be delayed. It also requires pre-planning and recognizing that dedicated time must be set aside for your tasks. As a PhD student, I am aware of this to a degree but I think when we take on service/volunteer roles, there's a danger of not giving it the importance it should hold. I will admit, this was something I had to adapt to (mentally) when I came on to the Fanlore team and, again, as a part of TWC, I am re-adjusting to ensure that I accomplish what I want to within the role. Luckily, the teams and communities that make up the OTW are incredible. During my time as a volunteer, I have encountered nothing but encouragement, support, and kindness from everyone I've interacted with. It's truly wonderful being part of the team.
What fannish things do you like to do?
I often feel like a fraud when I say this but…the only fannish thing I do is read fanfiction! But fanfiction is a cornerstone of my life and has been for almost 25 years. In fact, it's so crucial to who I am that I'm pursuing a PhD in media studies with a dissertation focused on fanfiction, storytelling, and new media platforms!
---
Now that our volunteer's said five things about what they do, it's your turn to ask one more thing! Feel free to ask about their work in comments. Or if you'd like, you can check out earlier Five Things posts.