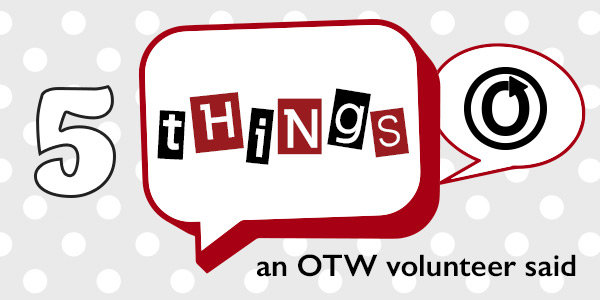 Every month or so the OTW will be doing a Q&A with one of its volunteers about their experiences in the organization. The posts express each volunteer's personal views and do not necessarily reflect the views of the OTW or constitute OTW policy. Today's post is with Cyn, who volunteers as a co-chair for our Volunteers & Recruiting Committee.
How does what you do as a volunteer fit into what the OTW does?
I currently wear three hats: Translation Staff, Volunteers & Recruiting (VolCom) Staff and being one of VolCom's co-chairs. I'm also a former Tag Wrangler, Open Doors Staffer, and Support Staffer.
VolCom staff ensure all volunteers have access to the necessary tools and resources needed to complete their work efficiently and effectively. We also process any volunteer onboardings (adding tools as needed) and volunteer departures (ensuring all tools are removed). One of our key responsibilities is to work with chairs of other committees to facilitate the administrative aspects of our monthly recruitment so that all roles in our organization are appropriately staffed. Since the OTW runs on the energy of volunteers who have decided to give their time and resources to it, I consider VolCom to be a key part of ensuring the OTW continues to operate smoothly. VolCom also works on long-term projects that affect the organization as a whole, such as the implementation of new tools, auditing tool access or developing a chair training plan that covers OTW-specific skills as well as more general leadership and management skills.
As one of VolCom's co-chairs, I supervise staff to make sure everyone has tasks to work on, recruit and train newbies, ensure goals and tasks listed in our committee's roadmap are being worked on, ensure documentation of our processes and projects is up to date and help other chairs with resolving Code of Conduct violations.
The Translation Committee helps coordinate the OTW's efforts across the organization to translate site pages, news posts, AO3 FAQs, and more. In my role as a Translation staffer, I am mostly involved with volunteer management which includes such things as assigning tasks to translators, running interviews and training chats, and handling any hiatus requests. I also help other committees if they need something translated, such as helping Policy & Abuse and Support with getting any tickets they may need to be translated that they can't translate themselves.
What is a typical week like for you as a volunteer?
Every week in VolCom is different so I may work on any of the following:
Welcoming and adding access to tools for new volunteers or removing a volunteer's tool access if they are leaving the OTW.
Updating our internal volunteer database of who is starting or returning from a hiatus.
If a volunteer requests a name and/or email change, updating our internal volunteer database and any tools the volunteer has access to.
Processing requests to give a volunteer access to a tool.
Responding to general volunteering queries.
Working on one of our long-term projects.
If VolCom recently recruited new volunteers, I might spend some time during the week following up with them about their progress and/or walking them through our different tasks.
One of the more regular tasks I work on is processing requests for recruitment. If recruitment is 1-2 weeks away, I'll deliver feedback to chairs on their recruitment documentation and training plan, set up the website application form, make the advertising post to give to Communications to send out when recruitment begins, and document which role is being recruited for our internal volunteer database. If we're in the middle of recruitment I'll organize the applications we received and, once recruitment is over, send the apps to committee chairs.
What made you decide to volunteer?
I see my volunteering as my way to give back to fandom since I'm a huge reader but not much of a writer. Although I've been reading fanfic for many years, I didn't really stop to consider who ran the Archive of Our Own until one day when I happened to see the post looking for volunteers to join the Tag Wrangling Committee. That got me curious about who ran the Archive so I read more about the OTW and its projects. I loved that it was a non-profit organization run by and for fans so I decided to apply.
After joining the OTW as a wrangler, I was able to learn even more about the OTW's projects and what goes on internally to keep everything running. I joined the Open Doors Committee to help save at-risk archives before learning more about VolCom from another volunteer who was on both the Open Doors and VolCom Committees. I thought the type of tasks VolCom did were the types of things I really enjoyed doing in my day job, so when I was asked if I was interested in joining I said yes and here we are!
What has been your biggest challenge doing work for the OTW?
One of the biggest challenges I've had are the projects VolCom works on. Our projects can require a lot of time, research, and prior knowledge in related fields, and sometimes it's not clear until we're in the middle of a project what needs to get done or what pathway to follow to carry a project out.
Another challenge I have is balancing my workload and communicating with VolCom staffers during busy periods. My day jobs have taken up a lot of time this year, so I've had to work on rebalancing real life and my volunteer commitments. Luckily one of my jobs is flexible and I usually have time to answer questions from VolCom staff or other volunteers during work hours. If I don't have time during the day, then I work on volunteering when I should be sleeping (who needs sleep?).
What fannish things do you like to do?
Other than volunteering, I love to read fanfic, listen to podfics or watch fanvids. I've been reading fanfic since the very early 2000s when I started reading Sailor Moon fanfic on A Sailor Moon Romance. I then moved to Fanfiction.net looking for more fics and realized there were a lot more fandoms with fics I could read. I eventually wandered my way over to AO3 and I've been reading in many different fandoms ever since. I'm currently reading fics in 9-1-1, MCU, The Witcher, and Yuri on Ice with many more to come I'm sure.
---
Now that our volunteer's said five things about what they do, it's your turn to ask one more thing! Feel free to ask about their work in comments. Or if you'd like, you can check out earlier Five Things posts.