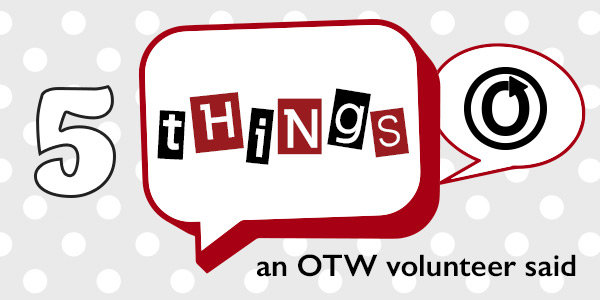 Every month or so the OTW will be doing a Q&A with one of its volunteers about their experiences in the organization. The posts express each volunteer's personal views and do not necessarily reflect the views of the OTW or constitute OTW policy. Today's post is with Alba, who volunteers as a Translation volunteer for Team Catalan.
How does what you do as a volunteer fit into what the OTW does?
Like other Translation teams, Team Catalan translates a variety of documents related to the OTW and its projects. Doing this makes them more accessible to even more people and creates a feeling of inclusion. My experience as a fan has been largely through English, and it is only now that I have to incorporate many common fannish terms to the translations to Catalan, that I realise that I need to change and adapt things. Thus, I believe every translation team's work contributes to recognise the variety of cultures that come together in Fan Culture, as well as to a global enrichment of all of those. I like thinking that by means of translation we also make place for Fan Culture in our own languages. Is this too much to say? Perhaps, but it is a nice thought I hope to be realising.
What is a typical week like for you as a volunteer?
Study, work and make the most of my free time to watch something, read and complete OTW's tasks. I think it is quite ordinary, not that much different from how it used to be before volunteering: I simply adapt the division of time to what I want or have to do. I would love to say that I organize my time efficiently and have a well-established routine, but the truth is I do everything along the way as I get the deadlines. I admit to being a terrible procrastinator, so OTW's tasks are the perfect excuse to postpone things with less of a guilty feeling. I also recently fixed a couple of days a month to revise which documents need uploading so as to avoid them building up. Improvements in the organising field are a work in progress.
What made you decide to volunteer?
I had been fatally charmed by fanworks, fan activity and the space that fandom offered long ago. I spent great times thanks to AO3 and their creators, so I wanted to be involved somehow. I came across an OTW recruiting post for Translation and signed up without further thinking. I was sure it was a great opportunity to learn more about fan culture and improve my skills as a translator.
What has been your biggest challenge doing work for the OTW?
Well, I already unveiled my not being the most organised person in the planet. Thank you staff for your patience! I am really shy and sometimes struggle to engage or voice my thoughts, so I can be rather passive. However, I ended up becoming co-coordinator of the Catalan team. In order to ensure we keep going in the right direction, improving our translations and helping the team become more comfortable in general, I am trying to do better in this too.
To be honest I was particularly surprised by the close and humane interactions between members of the team as well as the organization as a whole. Thus, despite my struggles I feel like I want to reciprocate, so I hope to be able to implement little by little everything the OTW is teaching me in the management of the team and future projects.
What fannish things do you like to do?
I keep a low activity profile at the moment, as I am not involved in any particular project. When I know enough, I would love to help with fansubbing. On another note, I love parody and dubbing videos I find around social media. So funny and creative! I also discovered recently an interest for Fan Studies and studies of transformative works, which I hope to pursue in the future. Thanks to all fanfic creators who helped me discover it. I hope I can keep reading your amazing stories for a long time!
---
Now that our volunteer's said five things about what they do, it's your turn to ask one more thing! Feel free to ask about their work in the comments. Or if you'd like, you can check out earlier Five Things posts.