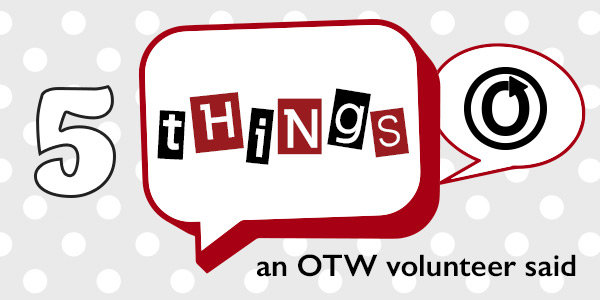 Every month or so the OTW will be doing a Q&A with one of its volunteers about their experiences in the organization. The posts express each volunteer's personal views and do not necessarily reflect the views of the OTW or constitute OTW policy. Today's post is with Akima Ras, who volunteers as a Translation volunteer for Team Persian.
How does what you do as a volunteer fit into what the OTW does?
One of the missions of the OTW is to make fannish content and community more accessible for people around the world. By volunteering as a translator for Team Persian, and the Translation Committee as a whole, I believe that we're helping to make everything feel easier and simpler to use. In the future, it can become a space that might feel closer to home for those who, for a variety of reasons, don't or can't live in their home countries anymore. Aside from that, I'm also a staffling for our Webs Committee, who fights WordPress alongside other Webs staff to maintain OTW's website and tries to get it to behave when other committees need technical assistance.
What is a typical week like for you as a volunteer?
Due to my mostly nonexistent schedule, I don't really have a typical week. When I actually manage to sit down unbothered behind my laptop, in the early hours of the morning, I tackle a variety of responsibilities based on my mood and how nigh the due date is. It's usually the translation task I'm assigned, followed by doc managing ones collecting dust 90% of the time. That means preparing around three or so dozen docs for translation, which can sometimes seem like a daunting project to tackle. To mix things up sometimes, I check OTW's main website and its relatives to see if they require updates, then switch to our internal task boards to do some housekeeping.
What made you decide to volunteer?
It seems like such a long time ago, [laughs], but when I first decided to volunteer, I actually noticed the recruitment post on AO3 for the very first time. I usually didn't pay that part of the page much heed, and if I did, it was no more than a cursory glance, but for some reason, it caught my eye that time, and I clicked the link. That somehow led me to the Translation Committee world map, and I noticed that there are no peeps from my country nor any who translate from English to Persian.
That was the reason. The realization that it felt like giving back to the community that had given so much to me, in a way, came later. In the beginning, seeing that map and noticing that there was no team Persian somehow made me wonder if OTW would want to have their site translated to my mother tongue. I contacted our Volunteers & Recruitment Committee, I assume, asking if they would be interested in that, and to my utmost surprise— because there were no translator recruitments back then — they said yes. And the rest, as they say, is history.
What has been your biggest challenge doing work for the OTW?
Actually, the experience has been so new, exciting, and rewarding that I can't come up with a response for this one. I mean, I can talk about how difficult it is to find the equivalent of pinch-hitter (a term for a stand-in writer in challenges) in the Persian language (there are none); or I can talk about the untamable navigation menus of OTW's website which, regardless of one's tinkering method, remain three lines long and overflowing with random pages with long, long names. But it's all part of volunteering for OTW.
P.S. In hindsight, maybe the latter can actually qualify as a challenge. Those hours and days that I believed that I had broken the site by fixing the ones for our three or so dozen languages were very stressful.
What fannish things do you like to do?
I've always loved stories and books, so reading fanfiction is a favorite pastime. I'm also an avid consumer of fanart on Tumblr and Deviant Art, and fanvids from the fandoms I'm interested in. That said, whenever my muses grace me with their presence, and real life allows, I write fics to give back to the fandom, appreciate other writers, give gifts to friends, and pen stories that I'd like to read.
---
Now that our volunteer's said five things about what they do, it's your turn to ask one more thing! Feel free to ask about their work in the comments. Or if you'd like, you can check out earlier Five Things posts.
The Organization for Transformative Works is the non-profit parent organization of multiple projects including Archive of Our Own, Fanlore, Open Doors, Transformative Works and Cultures, and OTW Legal Advocacy. We are a fan run, entirely donor-supported organization staffed by volunteers. Find out more about us on our website.