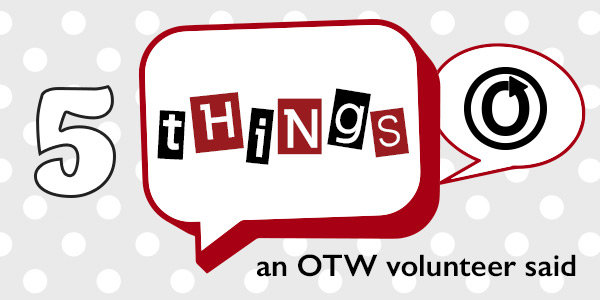 Every month or so the OTW will be doing a Q&A with one of its volunteers about their experiences in the organization. The posts express each volunteer's personal views and do not necessarily reflect the views of the OTW or constitute OTW policy. Today's post is with Akima Ras, who volunteers as a Webs volunteer.
How does what you do as a volunteer fit into what the OTW does?
As a Webs volunteer, I keep things running smoothly behind the scenes of OTW's website. Maintaining our main address ensures that the people who come across our website have a good browsing experience, and also find it easy to access different pages in their own languages, or connect with the right committees through our forms.
What is a typical week like for you as a volunteer?
Most of the time, it's taking care of recurring updates. But sometimes, we have to deal with the many ghosts that lurk in between the binaries and throw monkey wrenches into the gears. We also work with other OTW teams like Translation to give uploaders access, and tweak some forms when we have drives.
What made you decide to volunteer?
My interest in programming was the first reason. I was really curious about running a website, I wanted to learn about how it all worked. Also, I had the time to take on more responsibilities. Besides, from my earliest months of joining OTW, I was thinking about joining Webs, and the only thing that kept me back was thinking that I need to know a ton of programming languages (I think I had mistaken AD&T for Webs). The moment I found out, there was nothing that could keep me from wanting to be a Webs volunteer.
What has been your biggest challenge doing work for the OTW?
My biggest challenge doing work for the OTW as a Webs volunteer was something that happened before we migrated to our shiny, beautiful theme.
I was doing some housekeeping, trying to make some sense out of our multilingual menus, and making sure that every translated page and submenu was in the right place. Some titles were long enough that our menu bar ended up being several lines at the top instead of just one. This could be solved if we could have those pages in a drop down menu. But whenever I changed the order of the menus for each language, the one for the English also followed suit (but it shouldn't have had).
Long story short, numerous attempts at several languages were made; I gave myself heart attacks seeing a very messed up English menu on our landing page; panicked that I had broken the website, and didn't know how to fix it or revert to a previously unbroken theme. The website was finally saved, and later, transformed into our current theme (a transformation I absolutely love and adore since it's made everything easier for all of us), and the rest as they say, is history.
What fannish things do you like to do?
I like to write and read fanfics most of the time. Recently, I tried my hand at creating a fanvideo, but sadly, it got banned from Youtube and then deleted due to copyright. It made me realize how hard the whole process can be, but at the same time, so gratifying because I really enjoyed the finished project. I think I might try doing it again. Actually, the snippets of a tv series I have on my laptop have been calling my name for a while, I just have yet to find time in the unorganized chaos that is my life.
---
Now that our volunteer's said five things about what they do, it's your turn to ask one more thing! Feel free to ask about their work in the comments. Or if you'd like, you can check out earlier Five Things posts.