Why do you participate in fandom?
For many of us, the answer to that question is love — love of a favorite TV show, video game, or band; love of fannish communities and the friends we make there; or love of the creative process involved in transforming canon to create something new. Fans put in long hours making and consuming fanworks, traveling to conventions, moderating communities, and chatting about their latest fannish passions — not out of obligation, not for pay, but because it brings us joy.
Like so many other fannish endeavors, the Organization for Transformative Works is a labor of love. We're a nonprofit organization run entirely by fans, for fans, which relies on the generous support of donors and volunteers. During our membership drive from now through April 9, we invite you to become an OTW member by making a donation of US$10 or more. Your donation will help to sustain Fanlore, the Archive of Our Own, Transformative Works and Cultures, Open Doors, and our legal advocacy work. If you donate US$50 or more, you can opt to receive a thank-you gift to proudly show off your support.
Donations to OTW are tax deductible in the United States. If you have questions about donating, please visit our membership FAQ (located at the bottom of the donation page) or contact the Development & Membership committee.
The OTW and its projects depend on the support of fans like you. Be a part of this ongoing labor of love — please donate today.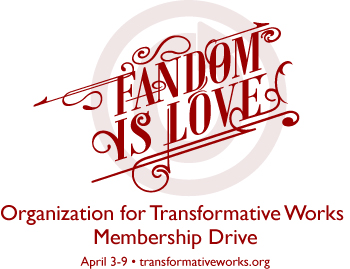 Help share the love! Please repost this graphic by copying the code from the text box and pasting it into your blog or website.