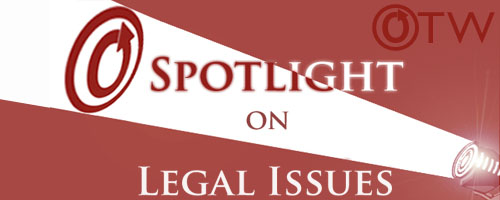 Last month, OTW Legal conducted a survey about fan experience with and knowledge of copyright. We had such a great response! Nearly 3,000 people participated. Because of this amazing response rate, we have a LOT of data – especially since so many gave us great, detailed answers to free response questions. So we still have more analysis work to do! But as part of fair use week, we wanted to provide some preliminary results, and give some thoughts about trends we're seeing – especially around issues related to fair use. And the best part about our results is that we're learning a lot about how we think we can help you as a legal advocacy team!
For some of the results below, we have only analyzed a portion of the data, so though the trends are meaningful, not all responses are accounted for.
First, some information about you guys as fan creators!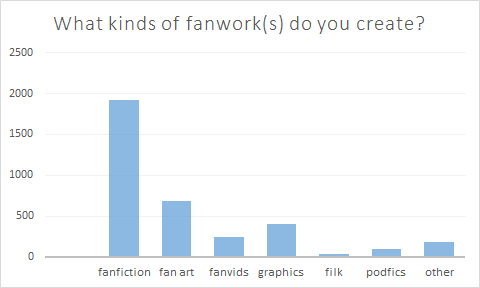 Most people who filled out our survey identify as fan creators, and fanfiction is by far the most common type of fanwork among our participants. This makes sense since so many of you use AO3! In fact, 97% of our participants reported having shared and/or read content on AO3 (and 32% are official members of OTW). Besides the fanworks we listed on the survey, the most common in the "other" category were: meta, cosplay, fanmixes, crafts, and roleplay. There were also many different online platforms listed; the ones represented on the chart are the most common.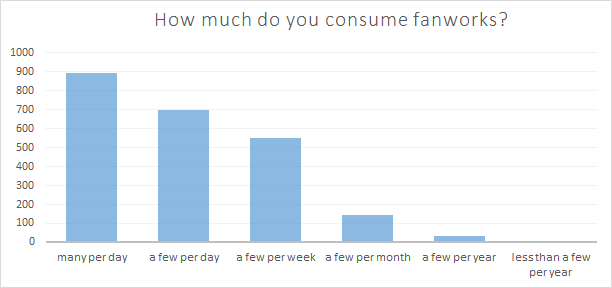 Unsurprisingly, our participants also read/watch/view a lot of fanworks, too!
And though an accurate count of self-described fandoms is ongoing, our initial analysis shows the following top 20 (starting with the most popular) among those who responded: Marvel (and MCU), Harry Potter, Supernatural, Star Wars, Sherlock, Star Trek, Teen Wolf, Dragon Age, Doctor Who, Avengers, Naruto, Merlin, Hannibal, Mass Effect, Lord of the Rings, Yuri on Ice, Overwatch, NCIS, Steven Universe, and Hamilton.
And now, onto questions about copyright!
Only about 15% of respondents reported having any kind of formal copyright education or training, ranging from "I'm a lawyer!" to "I watched YouTube's copyright school video." However, unsurprising to us, they also self report as knowing more about copyright than the average person.
Interestingly, we found that on average, those who identify as fan creators reported a somewhat lower copyright knowledge than those who do not. However, we also did not find a clear correlation between this self-reported knowledge of copyright and the actual accuracy of a description of fair use. Self reports are always tricky in surveys – but we might speculate here that those who do know more about copyright might know enough to know that they don't know everything!
We also asked some questions about the relationship between fanworks and copyright law.
As you know, at OTW we advocate for the legality of noncommercial fanworks and the right for creators to create and share them without permission. It seems that most of you agree with us! And for those who were unsure, that most often hinged (rightly!) on commerciality.
We also asked specifically about fair use, and analyzed all of that data to find out what people think fair use is, and how accurate their ideas are.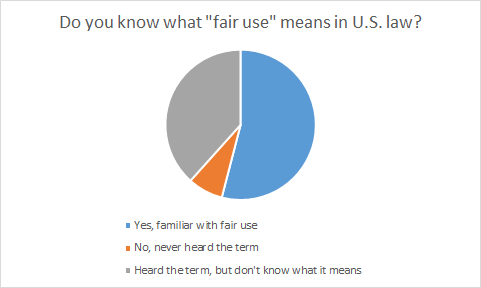 As you can see, almost all of our participants were at least aware of fair use, and more than half could explain what it was. For those who could explain, an awesome group of law students evaluated how accurate these explanations were. "High" accuracy meant that the explanation was completely accurate; "medium" meant that there was nothing blatantly incorrect, but might be slightly misleading (e.g., the implication that it turns entirely on commerciality); "low" meant that it wasn't entirely wrong but might have missed the main points (e.g., that fair use is about "personal use"); and "wrong" was an incorrect explanation (e.g., saying that it requires permission). It turns out that most of our participants have a decent understanding of what fair use is – but there's more we can do to help educate!
We also asked what factors you think determine whether something is fair use. Nearly everyone who answered this question was in the ball park, naming at least one correct factor! In the chart above, only the last two are not part of what determines fair use.
The first factor in a fair use determination is the purpose and character of the use. This includes things like transformativeness (so important!), educational use, critique and parody, and commerciality. We are not surprised at all that most people hit commerciality as being a very important part of fair use. However, remember that this is not the only part! Though we advocate that noncommercial fanworks are fair use, there are some commercial works that can be fair use as well, and types of noncommercial works that might not be.
The second factor is the nature of the underlying copyrighted work – whether it's fact or fiction, published or unpublished. For fanworks, this does not tend to be very relevant.
The third factor is the amount and substantiality of the underlying copyrighted work used. So those who said things like "how much of the original comes into your fanwork" are completely right! However, it's important to remember that there isn't a bright line rule for how much this is. Like all of these factors, they're all balanced together for a fair use determination.
The fourth factor is market harm for the underlying copyrighted work. Does the new work replace the underlying work in the market, or potentially harm the potential for the original copyright owner to make money? As we know, this is almost never true for fanworks–in fact, fanworks often augment the market for the underlying work!
The most common factor we saw discussed about what makes something fair use is credit. Attribution to the original source is not generally part of what determines fair use. It might be good manners, and it might show good faith, but isn't required by copyright law. And importantly, disclaimers do not hold any official legal weight at all. Some people also mentioned external factors like the feelings of the original copyright owner towards the work, or "who has the best lawyer." Technically these things don't matter either as a matter of law, although, like disclaimers, they may have practical or ethical importance.
So what's the upshot of this? It's good news: most fans know something about fair use law, and most of what fans know is correct. But we still have a long way to go in helping fans understand how copyright law, and fair use, is good for them! Here are some things to keep in mind when you're thinking about fanworks and copyright:
Disclaimers and attribution don't matter, legally, but might be considered good manners
Commerciality is important but not all of a fair use determination
You don't need permission when something is fair use, and the copyright owner's feelings about fanworks don't matter, legally
If you get a DMCA takedown, you can fight it if your work is fair use
If someone remixes your fanwork, that could be fair use, too
If you have questions, you can come to us!
We'll be back with reports on more of the survey results. We have much more information than this, ranging from knowledge of the Digital Millennium Copyright Act, to common fan experiences with copyright, to copyright law outside the U.S., and much more! We're grateful to everyone who took part in the survey, and we look forward to sharing more with you about it!