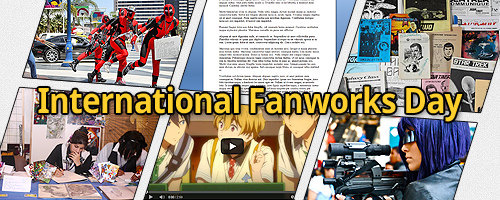 It's time to mark your calendars: the fifth annual International Fanworks Day will take place on February 15, 2019. Here at the OTW we have lots of exciting plans in store, but we also want to hear your ideas about the day.
What is International Fanworks Day?
The OTW founded International Fanworks Day in 2015. It's a day for fans around the world to celebrate the diversity and creativity of fanwork in all its forms. Whether you enjoy reading fanfiction, creating fanart, listening to podfics or audio mixes, editing fan videos, or getting deep into meta discussions, International Fanworks Day is your opportunity to share your favorite fanworks and talk about what they mean to you. You could also use it as an opportunity to run a challenge or create some new fanworks of your own!
What do fanworks mean to you?
Next month, the OTW will announce the activities with which we plan to celebrate International Fanworks Day this year. But right now, we'd love to hear what the wider fan community will be doing to mark the day. Let us know via our social media or in the comments below.
We'd also like to invite your submissions on the topic "What fanworks mean to me." If you'd like to contribute, you can take part by:
Making a post with your thoughts on Twitter, Tumblr or Facebook and adding the hashtag #WhatFanworksMeanToMe.
If you have more to say, you can submit longer essays of up to 350 words to the Communications Committee via the OTW's contact form. You can take a look at the hashtag to see everyone's contributions, but a selection of submissions will also be featured on the OTW blog in the run-up to International Fanworks Day 2019. If you'd like your piece to be considered, please make sure that it includes your country of residence, as well as the name under which you'd like us to list your work.
We accept submissions in every language, so there's no reason to hold back. Let the fanworks love flow free!