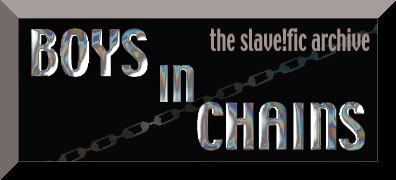 Boys in Chains, a multi-fandom archive for both fiction and art, with a focus on stories about emotional bonds between people of different ranks or status, is moving in with the Archive of Our Own (AO3). And to reflect its openness to femslash, het, and gen, its name will be changing to Chains: The Powerfic Archive.
In this post:
Boys in Chains opened in 2000 as a m/m slash slavefic archive. It later expanded its content to become an archive for works representing power imbalances, including slavefic, prisonfic, hookerfic and fic with BDSM themes. It welcomed fan fiction and original fiction in the categories of m/m slash, f/f slash, gen, and het as well as yaoi, yuri, and gay/lesbian fiction. As well as fiction, it also had a gallery of fan art depicting similar themes.
On the AO3, Chains: The Powerfic Archive will be a separate, searchable collection with its own identity for all of the fanworks that were housed on the original archive. We will begin importing works from Boys in Chains to the AO3 collection in December 2014.
What does this mean for creators who had work on Boys in Chains?
This is the part where we ask for your help!
1. If you already have an AO3 account and have posted your Boys in Chains works there, please contact Open Doors with your Boys in Chains pseud(s) and e-mail address(es), so that we won't import your works. (You can mass add works to the new collection on the AO3.)
2. If you don't already have an AO3 account but would like one to upload your works yourself, please contact Open Doors with your Boys in Chains pseud(s), and the preferred e-mail address to send the AO3 invite to.
3. If you would NOT like your works imported, please contact Open Doors with your Boys in Chains pseud(s) and e-mail address(es) so that we will not add them. (If you would not mind them being preserved but do not want your name attached to them any longer, please let us know that too—we can orphan your works so that present and future fans can still enjoy them.)
All works imported on a creator's behalf will be attributed with their name in the summary of the work, and will include a note about how to claim the work in the future. As we import works, we will e-mail notifications to the address associated with the work.
All imported works will be set to be viewable only by logged-in AO3 users. Once you claim your works, you can make them publicly-viewable if you choose. After 3 months, all unclaimed imported works will be made visible to all visitors.
If you no longer have access to the email account associated with your Boys in Chains works, please contact Open Doors and we'll help you out. (If you've posted the works elsewhere, or have an easy way to verify that they're yours, that's great; if not, we will work with the Chains archive mod to confirm your claims.)
If you have further questions, visit the Open Doors FAQ page, contact the Open Doors committee, or leave a comment on this post and we'll respond as soon as we can.
– The Open Doors team
Share your memories of Boys in Chains on Fanlore and keep its story going for future generations–contributions are welcome from all fans! (New to wiki editing? No worries, just visit this page.)