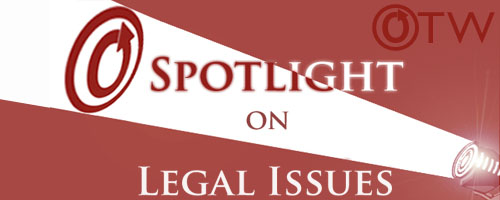 In recent weeks, OTW Legal has gotten some questions about net neutrality in the United States. Net neutrality is the principle that Internet Service Providers (ISPs) should treat all data on the Internet the same way, without discriminating or charging differently by user, content, website, platform, application, type of attached equipment, or method of communication. There's been some recent activity surrounding net neutrality regulations that fans may want to know about.
Last week, the U.S. Federal Communications Commission (FCC) released a proposal that would severely reduce net neutrality requirements in the United States. The FCC is currently in charge of regulating broadband internet access services in the U.S., and FCC rules currently forbid ISPs from, for example, blocking or "throttling" access to lawful content, prioritizing access to content based on payment, or requiring consumers to pay more for access to certain content or services. The new FCC proposal would retain existing transparency rules, but would roll back prohibitions–effectively permitting ISPs to engage in blocking, throttling, paid prioritization, and other interfering behaviors.
The FCC's proposed order has not gone into effect yet; the FCC Commissioners will discuss the proposal at their December meeting. Despite widespread and vocal opposition to the proposal, most expect that it will pass in mid-December.
What would this mean for fans?
It's difficult to predict exactly what these changes would mean, because it's difficult to predict what ISPs will do when the regulations change. Many major ISPs have pledged not to block or throttle content, but the law wouldn't prohibit them from changing their minds. Some ISPs may also decide to offer tiered pricing that would, for example, charge different amounts for access to different parts of the Internet, or create "fast lanes" and "slow lanes."
Essentially, the changes would allow ISPs to do whatever they think will be most profitable for them, which may mean (for example) giving preferred treatment to sites or services that are affiliated with the ISP or pay the ISP. This could make it more expensive for consumers to gain access to the full range of Internet services and content, and could make life harder for small sites or startups. ISPs would have to disclose when they do such things, but there would be little meaningful mechanism for preventing them, other than market forces.
Most of the effects would probably be for users in the U.S., although decisions about Internet in the United States tend to have a broad impact on access even for non-U.S. residents. Any law affecting internet access may also have an impact on works hosted by AO3, information available on Fanlore, and the OTW's day-to-day work of preserving fan works and supporting fan culture.
For these reasons, the OTW supports net neutrality and OTW Legal personnel have submitted comments to the FCC in support of net neutrality. We will continue to be involved as opportunities arise.
What can fans do about it?
Although it is likely that the FCC will adopt this proposal, the FCC is not the last word on the matter. The FCC must submit its rules to the U.S. Congress, which can overturn them. Therefore, one thing that fans can do–especially fans in the U.S.–is contact their Congresspeople to let them know that they should care about net neutrality. Knowing that net neutrality is important to their constituents, and having concrete examples about why constituents care about net neutrality, will make a difference in whether Congress decides to overturn the FCC's plan. A coalition of Internet-focused nonprofits led by Fight for the Future has created tools to make it easier to contact your Congresspeople about net neutrality, and has also planned some other actions. See their "Battle for the Net" site here.
In addition, many of the OTW's allies, such as the Electronic Frontier Foundation and the Center for Democracy and Technology, are active in promoting net neutrality. Interested fans can follow their activities and get involved through them.