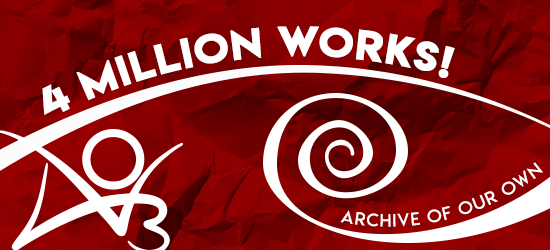 The Archive of Our Own is proud to announce that it has reached four million fanworks!
The creation and growth of AO3 has been a wild ride. The initial suggestion for the Archive was made in May 2007, and ever since then we've been having a blast! Thanks so much to everyone who has helped make AO3 the thriving community that it is today, including those who have shared fanworks for others to enjoy.
Here are some other milestones AO3 has reached, courtesy of the Archive of Our Own Fanlore article:
Help Us Celebrate!
With this latest milestone, AO3 has more to enjoy than ever before, but choosing from that many works can be difficult. We recently launched upgrades to our search engine that made it easier than ever to find what you're looking for on AO3, but sometimes it's nice to get a recommendation from a fellow fan. That's where #AO3HiddenGems comes in!
#AO3HiddenGems is a way to celebrate the lesser-known works on AO3 that people might not get to on their own. So if you know of a wonderful fanwork (or several!) that you think everyone should experience, but it doesn't have many hits or much feedback, now is your chance to tell the world about it. Use #AO3HiddenGems on social media to let people know which works are hidden gems that they should check out. Or, if you'd rather, leave some recommendations in a comment on this post. Then go browse the hashtag on Twitter or the tag on Tumblr to find yourself some new fanworks to enjoy.
AO3 wouldn't be what it is without you, so come party with us to celebrate this exciting achievement!