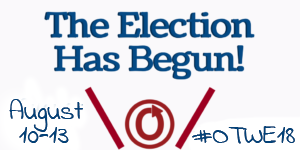 The election has opened!
Every member who joined between July 1, 2017, and June 30, 2018, should have a ballot by now. If you didn't get one, please check your spam folder first, then contact us via our contact form.
The election will run through 11:59 UTC on August 13, 2018; check this time zone converter to find out what time that will be for you.
Once you've voted, you can head over to Twitter and use the hashtag #OTWE2018 to let us know!